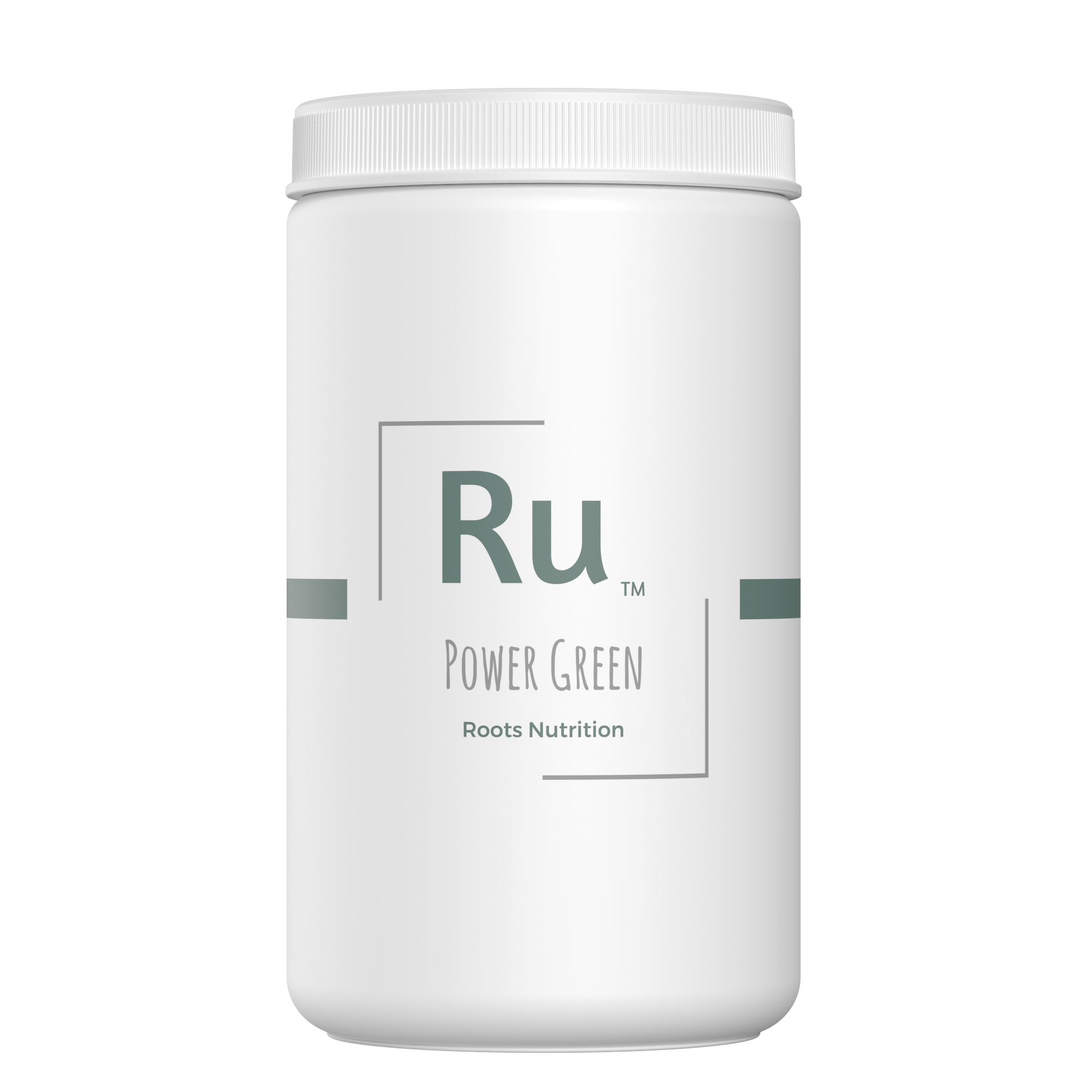 Power Green Large
Taking the ROOTS NUTRITION`S POWER GREEN will feed your cells all the necessary nutrition to maintain or regain your health.
Ingredients:
• Spirulina- Most nutritious food on earth. Complete-High protein, Nutritional deficiencies, Body building, Wound healing, Detoxifying and Deodorizing.
• Horsetail- Arthritis, Diabetes, glandular problems, Kidney stones, nervousness, osteoporosis, parasites, urinary problems, weak hair, skin and nails.
• Ginger- Bronchitis, Childhood diseases, Dizziness, Fatigue, Flu, Headaches, Indigestion and Poor circulation.
• Gingko Biloba Extract- ADD. Alzheimer's Disease, Cardiovascular disorders, Impotence, Multiple Sclerosis, Muscular degeneration, Stress, Stroke.
• Gotu Kola Extract- Aging, Arteriosclerosis, Blood pressure. Heart Problems, Hypoglycemia, Memory Loss, Mental problems and nervousness.
• Grapeseed Extract- Cardiovascular diseases, Carpal Tunnel, Diabetes, Emphysema, High blood pressure, Parkinson's, Lupus, and skin health
• Cat's Claw Extract- Allergies, Candida, Chronic fatigue, Hormone imbalance, Intestinal problems, Parasites, Viral infections, and immune system
• Milk Thistle Extract- Cirrhosis, Epilepsy, Hepatitis, jaundice, Kidney problems, Liver disorders, skin disorders and Toxic effects.
• Alpha Lipoic Acid- Antioxidant, cataract, Degenerative disease, Diabetes, Heavy-metal detoxification, Immune enhancement and Stroke.
• Ester C- Antihistamine, Cholesterol, Herpes, Increase energy, Infection (viral, bacterial, fungal) Pain, Stroke, and Varicose veins.
• Stevia Extract- Digestion, Fatigue, gastrointestinal function, regulates blood sugar, Nourishes the liver and spleen and stimulates alertness.
Power Green Tonics, Spritzers & Juices
Green Lemonade

·       32 oz water
·       2-3 scoops Roots Power Greens
·       1/4 cup of ice (optional)
·       2 medium lemons (juiced)
·       Stevia, honey, or agave nectar to taste
·       1 pitch of Himalayan salt 
Add ingredients to a reusable BPA free bottle . Shake, drink, and enjoy throughout the day.
Blend all ingredients in a high speed blender. Pore into bowl topping with fresh berries and granola (add an edible flower or 2 for extra color and fun).
Cucumber, Lime, Mint Spritzer
·       2-3 limes (peeled)
·       1 Persian cucumber
·       1 handful of mint leaves
·       1-2 scoops Power Greens
·       Mineral water (can also use seltzer water)
·       Blond Agave nectar (a great low glycemic replacement for simple syrup)
Add the limes, cucumbers, and mint and blend thoroughly. Strain the lime and blend thoroughly. Discard the pulp. Add equal parts lime juice blend with mineral water, Power Greens, and agave nectar to taste . Shake or pulse 1-2 times. Pour over ice , add slice of lime and cucumber and a sprig of mint and enjoy! Line the rim of your glass with Himalayan salt for added taste and electrolytes. Double or triple the recipe to make pitcher to store in the fridge for an all day super hydrating refreshment. 
Blend all ingredients in a high speed blender. Pour into bowl topping with chocolate chips, chia seed, and granola (add coconut shavings for a little flair).
Frozen Green and Tonic
The spin on gin and tonic takes some prep time! 
1 liter of tonic water (pour onto ice cubes and freezer overnight.
8 ounces green juice water (1-2 scoops of Power Greens in 8 oz water blended well)
Zest of 1 lime
Blonde Agave Nectar to taste 
(Add a few leaves of fresh basil for added flavor.)
Add all the ingredients to a blender and blend until smooth and frothy. Divide over 4 chilled glasses. Garnish with a slice of lime.